The habit of organization can be learned.Layers Deep - professional organization services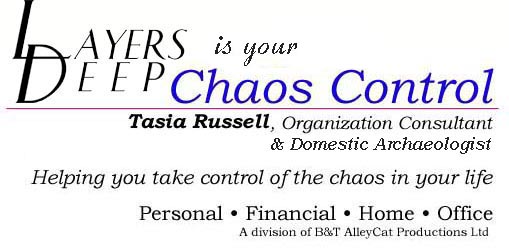 Being organized is something that some people appear to just be. The reality is that organization is a learned skill. I have been developing individual solutions and teaching them to people for over twenty years.
Step 1)  Determine what level of chaos you are comfortable with.
As long as you know where the things you need are when you need them, you may have an acceptable level of chaos in your life.
Some organized places look like a rat's nest to other people.  However, things are just where you know they are. 
It may look like chaos, but it is known chaos.  More control may be desired, or not.
Some disorganized places look completely tidy, yet where things were neatly put away are a complete mystery. 
This is when the chaos is actually in control, it just looks nice at first glance.
Step 2) If you are not at the level of chaos you want take action to change it.
Personal

Office [Home & Business]

Electronic

Habit Training
Wardrobe Consulting
Gift Selection and Presentation
Holiday Decoration and Display

Space Management
Filing Systems
Process Analysis
Procedures and Manuals

Data Organization
Data Recovery
Data Backup
Equipment and Cable Management

Financial

Home

Paper

Bill Payment Systems
Real Life Budgeting
Financial Tracking

Functional Furniture Arrangement
Task Organization
Reward Systems

Paper Flow Analysis
Paper Management
Paper Reduction
Moving Coordination Across Town or Across the Country
Organizing your move from where you do the work to packing everything and hiring movers while you are not there.
Definitions and Meanings of phrases as used by Tasia

Organized – Being able to find what you need when you want it without hunting.

Domestic Archaeologist – A person who conducts a dig site to solve organizational problems and discover lost treasures in someone's home or business.  Originally used after working in one site where there were seventeen years of newspapers layered in the debris.  This dated the layers of loss and occasionally provided an exact date for items rediscovered.

Horizontal Surface Disease – The disorganized layers of stuff that accumulates on any and all horizontal surfaces in an area.

Deertrailitis – The chronic advanced form of Horizontal Surface Disease when it has spread to the floor.  The floor is now a horizontal surface piled upon to the point where the paths through the area are just wide enough for your feet [resembling deer trails].

Might Need It Syndrome – Saving old things that you just might need in some undefined future.  Often seen in the form of empty boxes and other packaging.

Circular Accumulation – The layers of unwanted and unsolicited junk mail and catalogs that never seems to make it back out of the house.  This most often is found near the door closest to the mailbox.  This can also include the evening paper and magazines which were originally wanted, possibly read and are now out of date.

Circular Disorganization Dysfunction – The migrating pile of items that move from place to place as areas get organized without ever being dealt with.  Sometimes these migrate within a room, other times they migrate throughout a building.  Occasionally they settle into a paid storage location, still without being sorted through.

Environmental Expansion – Dealing with the growing amount of unneeded items by moving to a larger location (apartment, house, or business) while continuing to accumulate additional items.

Organization is a learned skill which can be achieved through Habit Training.

Habit Training –The focused gradual application of painless methods to move from disorganization to the desired level of organization through breaking the disorganization problem down to small achievable steps to effectively change one's habits.

For help controlling the chaos in your life

e-mail
tasia@btacprod.com

call
(614) 268-9127

Sessions Available
Mornings,
Afternoons
&
Evenings

Monday - Friday,
Weekends
&
Most Holidays
Additional Information a potential client might want to know up front
Session Length – The minimum time period I work in starts at two hours per session. Depending on how far you are from my starting location will determine the minimum length of your session.  I charge my hourly rate for the time at your site. After the minimum length I bill per additional fifteen minutes.
Location – I work at your home or business.  I do not have a storefront, which keeps my costs low.  Besides, your chaos is in your location. 
I have my own chaos.  Your chaos and my chaos do not need to mingle.
Discretion – I drive blue SUV with no logo.  When I arrive I look just a like a normal friend visiting, or a client at a business.  I do this because I am here to help you deal with your chaos.  You do not need to tell the world why I am there. 
Chaos Removal –The reason I drive a SUV is that every session you can fill my Nissan Xterra with items you want removed.  I will drop off your donations to charity and you get the receipt and the tax credit.  Any items that can be recycled I can also take and recycle for you immediately.  This way, once you determine something should go, it goes now!
Geographic Coverage – I am located in the Clintonville area of Columbus Ohio [North Broadway and High].  However, I travel to your location, even to other states.  I drive to sites in Ohio.  Outside of the state of Ohio my hourly rate remains the same, although travel rates are negotiable.
Residential versus Business Rate  – My rates are the same for personal or business clients.  I am doing the same work, so I feel that my rate should be the same regardless who I am working for.
Additional Services for businesses – I can develop a process for your business including any materials needed (written, web, and audio visual), present workshops and seminars. Not only can I develop the organization system, I can train your employees in its use.